I know that we are still in the last few weeks of fall but I cannot help but to get the itch for all things pumpkin! As we near the end of the summer we find that the sights and smells of the upcoming season begin to take over. Every store, bakery, coffee shop and craft store dust off the decor and fall has arrived. There is something about the fall season that I just love. The bonfires, the colors, the falling temperatures and yes…the pumpkin!
This dish is fall on a plate. The crunchy crumb like topping with a creamy sweetness will simply melt in your mouth! Add a scoop of vanilla bean ice cream over top of the warm layers and you have yourself the perfect dessert.
So let's take a look at the ingredients and directions we will need to make this impressive dessert.
INGREDIENTS:
1 can (15 ounces) pumpkin puree
1 can (12 ounces) evaporated milk
4 eggs
1 1/2 cups sugar
1 teaspoon cinnamon
1/4 teaspoon nutmeg
1/4 teaspoon ground ginger
pinch of cloves
1 teaspoon salt
1/2-ish box yellow cake mix (if you'd like a more cake-like consistency, use more – up to the full box. If you'd like it to be more like a pie texture, use around 1/2 the box)
1 cup chopped pecans
1 cup butter, melted
DIRECTIONS:
Preheat oven to 350 degrees. Spray a 9×13 baking dish with non-stick spray.
In a large bowl, beat together the pumpkin, milk, eggs, sugar, and spices until well combined. Pour into the prepared baking dish.
Sprinkle the top with yellow cake mix. I prefer a half of a box, but use more if you want it to be very cakey.
Sprinkle with the chopped pecans.
Pour the melted butter evenly over the top of the cake.
Bake for 60-70 minutes or until the top is lightly browned and the custard is set.
Serve warm or cold. Store in the refrigerator.
While there is still some summer left will you be making this dish or will you be waiting for cooler weather?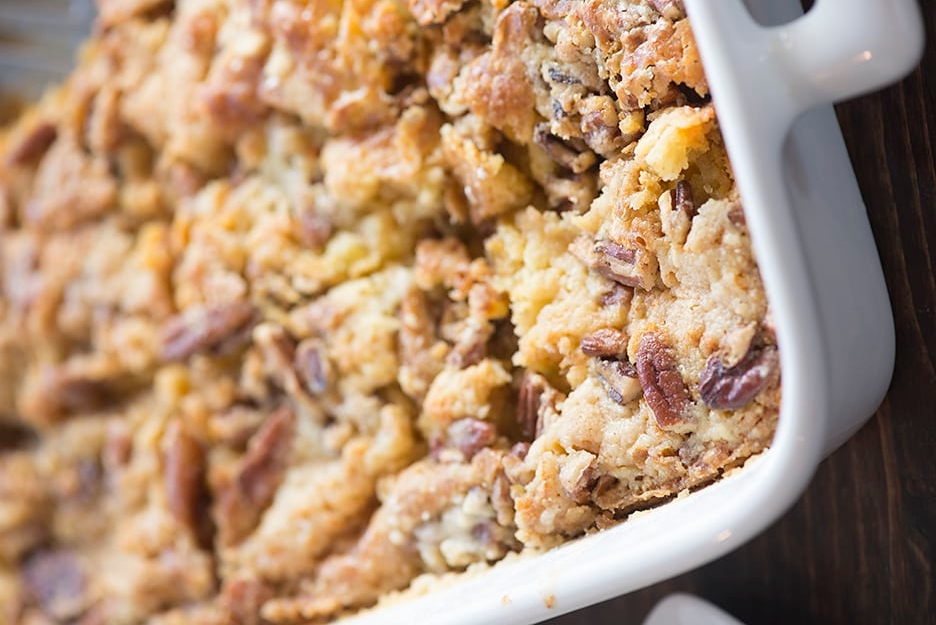 Source: BunsinmyOven.com